Head Coach – All Weapons
freeholdfencing@gmail.com
Personal Information
Fencing has been a family tradition in my family. When I was a young child, my older brother Manoochehr and sister Mahvash were already champions of Fencing in Asia. I could not wait to join the ranks of champions, so at age five I started training and practice.
I have been involved in fencing most of my life, except for a few years when my participation in fencing was interrupted by the war between Iran and Iraq where I served my country and thereafter I immigrated to USA in 1985.
In 1989, I was delighted to be able to resume my passion and interest in fencing here in New Jersey, and I have not stopped since. I owe much gratitude to many good professionals who helped foster this passion in me and have always encouraged me to continue with my passion. My goal of getting to the Olympics was cut short because of my time as a soldier in the Iran-Iraq war, but that passion still drives me today as I want to see a student of my own make the Olympic Games. I love to see my students succeed in this sport, and being able to help them along the way is something that drives me!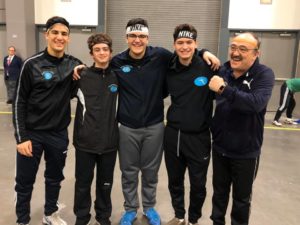 Fencing Highlights
1989-1992 – Co-founded and lead New Jersey Institute of Technology fencers under the direction of Coach Lynch & Coach LaTorre.
1981 – Bronze Medalist in Iran's Junior Fencing Championships.
1978-1980- Ranked amongst the top five junior fencers in Iran.
1989-1992-Captain of the New Jersey Institute of Technology's Fencing Team.
1990 – Silver Medalist in MACFA Championships (Middle Atlantic Conference Fencing Association)
1990-1991 – Fencing Team MVP and competed in the NCAA East Qualifiers.
1992 – Most Valuable Player in IAC (Independent Athletic Conference).
1989 -1992: Winner of 150 career victories, two NCAA post season competitions and MVP awards.
Top Coaching Highlights
National Points List for students in all age groups of Foil and Epee since 2009!
Produced over 90 USFA-rated fencers since 2007!
Senior Men's Foil World Cup with Team USA in Plovdiv, Bulgaria – April 2022
Coached Division1 Men's Foil fencers since 2015
European Cadet Circuit in Rome, Italy – February 2019
European Cadet Circuit in Vienna, Austria – November 2018
Ranney School Head Fencing Coach – coached NJ State Champion & NJ State Bronze Medalists in 2016 (Women's Foil & Women's Epee)
Been a strip coach at the National Championships every year since 2009
Employment History
2006 to Present: Biotechnology High School, Freehold, NJ – Mathematics and Physics Teacher.
1992 to 2005 – Brookdale Community College, Lincroft, NJ – Instructor of Engineering & Mathematics
1989-1992 – Leon S. Avakian, Inc. – Assistant to Surveyor and Civil Engineer
1979-1982 – Tehran, Iran – Fencing Assistant Coach and Member of Junior National Team.
Education
Master of Arts in Pure Mathematics, 2000. Georgian Court College, Lakewood, NJ.
Bachelor of Science in Civil Engineering, 1992. New Jersey Institute of Technology, Newark, NJ.
Associate of Science in Mathematics, Physics, and Civil Engineering, 1988. Brookdale College, Lincroft, NJ.