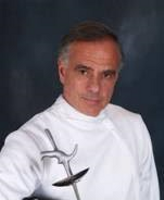 Foil Coach
Dr. Anthony "Tony" Kestler of Manalapan is one of the fencing masters at the Freehold Fencing Academy.
Coach Tony was the National Foil Champion while at Columbia University.
He was the six time Junior Olympic Fencing Champion in New York State.
While attending dental school at Case Western Reserve University in Cleveland, Ohio, Tony won the Ohio Foil and Sabre Championship.
In 1970 Coach Kestler was the captain of the United States Team fencing in the World Championship in Turin, Italy.
Tony practices dentistry in Plainfield, New Jersey.
Tony is presently a member of the Alumni Fencing Advisory Board at Columbia University in New York City. He enjoys spending time with his wife, Barbara, his two sons, Josh and Adam, his two daughters, Dana and Marni, and his two grandchildren, Lily and Jake.